PETITE RIVIERE ST. FRANCOIS, Quebec — Club Med made a jubilant return to the North American mountain lodging market, opening a long-planned, 322-room resort at the base of the Le Massif de Charlevoix ski area, about an hour-and-half drive northeast from Quebec City.
"The moment to be happy is now, and the place to be happy is here," Henri Giscard d'Estaing, CEO of the French all-inclusive resort company, proclaimed during an inauguration ceremony inside the lodge a few days before the official Dec. 3 opening. 
The Club Med Quebec Charlevoix is the hotelier's first North American ski property since it closed facilities in Colorado's Copper Mountain and Crested Butte in the 2000s.
But with plans already in place for a late-2024 opening of a Club Med at Snowbasin Resort in Utah, the company is banking on finding more North American success this time around.
Carolyne Doyon, the company's CEO for North America and the Caribbean, said the biggest difference between now and then is that Club Med has repositioned itself as an upscale resort company. 
"We know that the all-inclusive mountain experience has changed since the beginning of the 2000s," she said. "The expectations of our clients have changed. Our offering is more of an immersion now. It is not just a ski vacation."
Related: Club Med's Carolyne Doyon in On the Record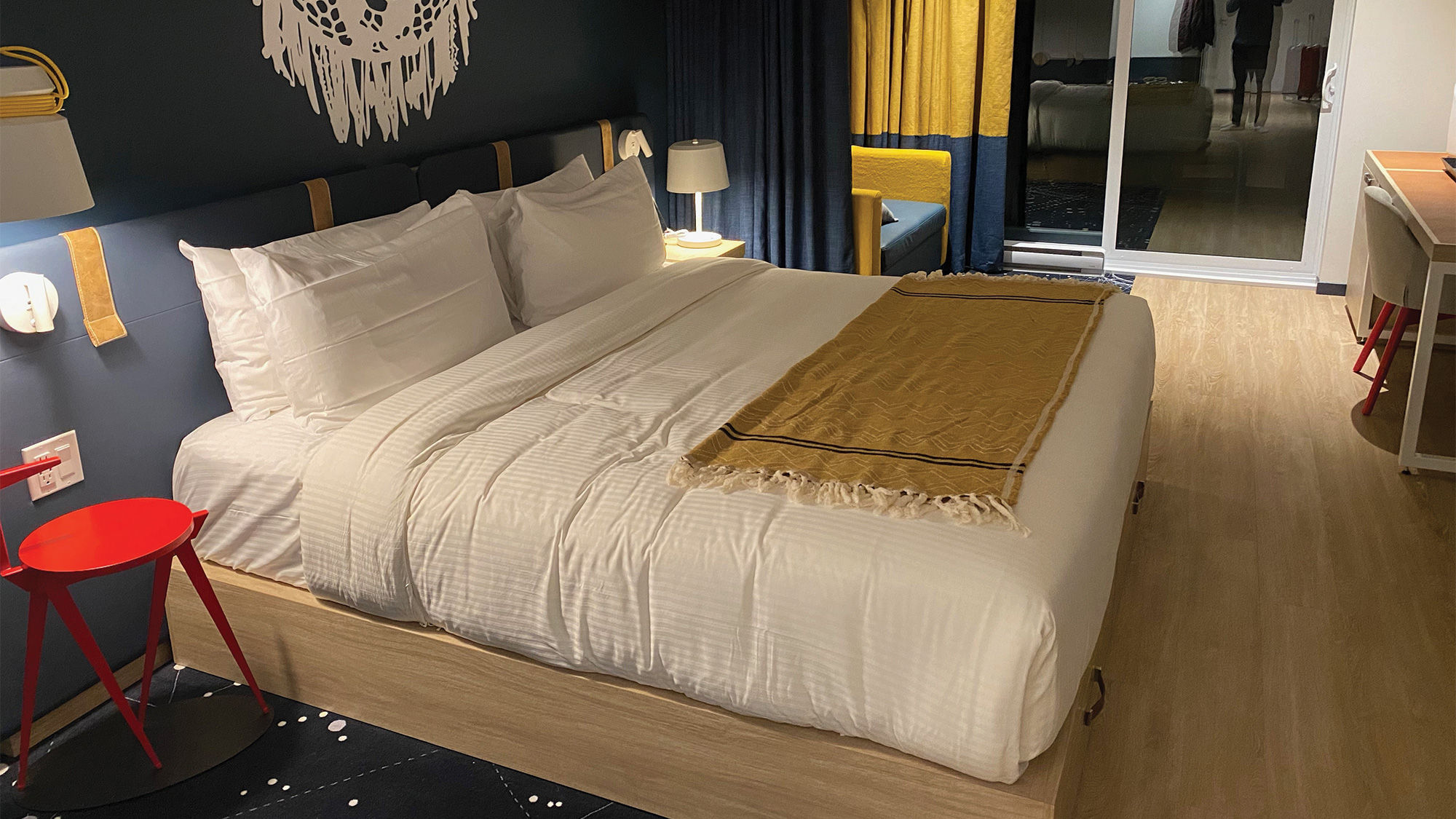 The hotel: Inclusive rates and views
True to Doyon's words, travelers who remember the tight accommodations Club Med offered in Copper Mountain will find no resemblance at the company's new Quebec property.
Every room is at least 323 square feet, and among the 25 suites that are part of the brand's Exclusive Collection are two-bedroom, two-bathroom units that can sleep up to five. 
Guests can take in sweeping views of the stunning St. Lawrence River from many rooms and from practically all of the lodge's spacious public areas, including both restaurants and the theater, where shows are to be offered nightly. 
The spa, health club and the 25-yard-long indoor swimming pool also overlook the river.
Most guests will do the majority of their dining at Le Marche buffet restaurant, which serves an exceptionally wide selection of freshly prepared meats, breads, desserts, seafood, pasta and more. Le Chalet restaurant features traditional sit-down dining with an emphasis on seasonal Quebecois cuisine. Overall, 80% of the food at the resort is sourced from Canada, and 30% is sourced from within 62 miles of the hotel, according to Jerry Tschudy, Club Med's food and beverage director for North America and the Caribbean. 
Doyon said she expects the all-inclusive offering to be a key to drawing customers to the new Canadian property, including U.S. customers. Along with meals and entertainment, room rates include lift tickets at Le Massif, equipment rentals, group ski lessons and a variety of other guided outdoor activities for both winter and summer. In fact, said Doyon, Quebec Charlevoix will be the first of Club Med's 22 global mountain resorts to be open year-round.
From our archives: Club Med challenges N.A. ski resorts — and it's not sorry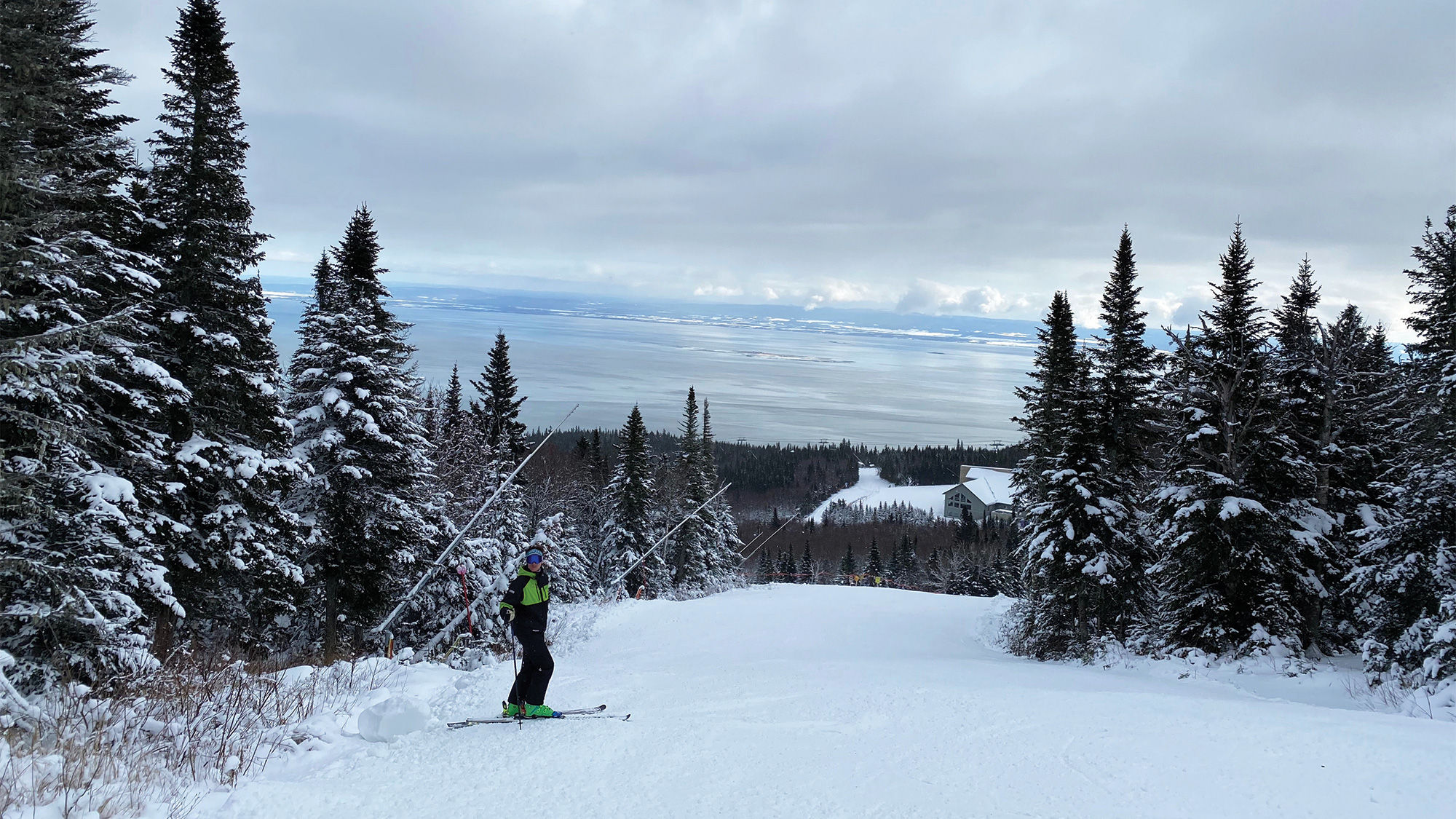 The mountain itself
Club Med is also banking on Le Massif itself being a draw. Though relatively small, with a gondola, four lifts and two magic carpets serving 406 skiable acres, its 2,526 vertical feet is the biggest in Canada east of the Rockies. Le Massif also affords commanding views of the St. Lawrence. And Club Med is the lone hotel in the near vicinity.
"I believe that there is nowhere in the world where you can ski and almost see the sea in front of you," said Doyon. 
Another unique feature of the mountain is its nearly 5-mile sledding trail.
Doyon touted early sales success, saying that Club Med has thus far taken 19,000 bookings for the resort. During planning, the company had projected 30% of Quebec Charlevoix customers to come from the U.S., with 50% from Canada and 20% from Europe and Brazil. The pandemic has changed those expectations: Club Med now projects that 65% of customers will be Canadian, and 15% will be from the U.S.
From our archives: 60 years of all-inclusives
One deterrent for potential U.S. visitors will be the resort's relative remoteness. At present, the only nonstop U.S. service to Quebec City is from Florida markets. The thrice-daily service that United offered from Newark before the pandemic hasn't resumed. As a result, most U.S. flyers, even from the Northeast, will have to transfer through Montreal or Toronto before finishing their trip with a 90-minute drive.
Ted Friedli, co-owner of New Jersey-based Excel Travel, said lack of air service will make it difficult for him to sell the Quebec Charlevoix property to many of his skiing clients. 
Doyon, meanwhile, said Club Med has been talking with airlines and the Quebec City airport in an effort to spur more flights.
Still, Friedli, who visited the Quebec Charlevoix resort last week, said he envisions selling the property to certain client niches, especially families who appreciate the all-inclusive model or the Club Med brand and would like to ski together. 
The all-inclusive room rates vary widely but can be less than $5,000 for a week's stay for two during the peak ski season. Club Med commissions travel advisors on a tiered scale capped at 15%. 
Source: Read Full Article