Celebrity Cruises has gone out of its way to tout the big names who put their creative stamp on its newest ship, the Celebrity Beyond, including designer Nate Berkus.
But there's one Nate Berkus-designed space that remains entirely off-limits to guests: the crew bar.
Berkus, officially a Travel Ambassador for Celebrity, was brought on to redesign the Beyond's Sunset Bar on the top deck, aft, where guests frequently go for a pre- or post-dinner drink.
On the Beyond, however, the bar was to be nearly twice the size of what it was on Celebrity's first three Edge-class ships, and Berkus aimed to give the two-story space an ambience similar to the international beach clubs he'd visited in Uruguay and along France's Mediterranean coast. More than just another bar, he wanted it to be an onboard destination.
He must have done something right: During a tour of the space when the ship was docked at Cape Liberty in New Jersey last October, Berkus said the Sunset Bar has become the most popular public space on the Beyond following its debut in Europe last summer.
As happy as he is with the outcome, it's not his work aboard the ship that Berkus is most proud of: that would be the Pub and Luna Lounge, the bar and open-air hangout he designed for off-duty crew members to enjoy draft beer, cocktails, wine and nonalcoholic beverages.
The Pub has sleek leather banquette seating and comfy bar stools, while the Luna Lounge, he said, has "a similar vibe to the Sunset Bar but is a little cozier and more intimate."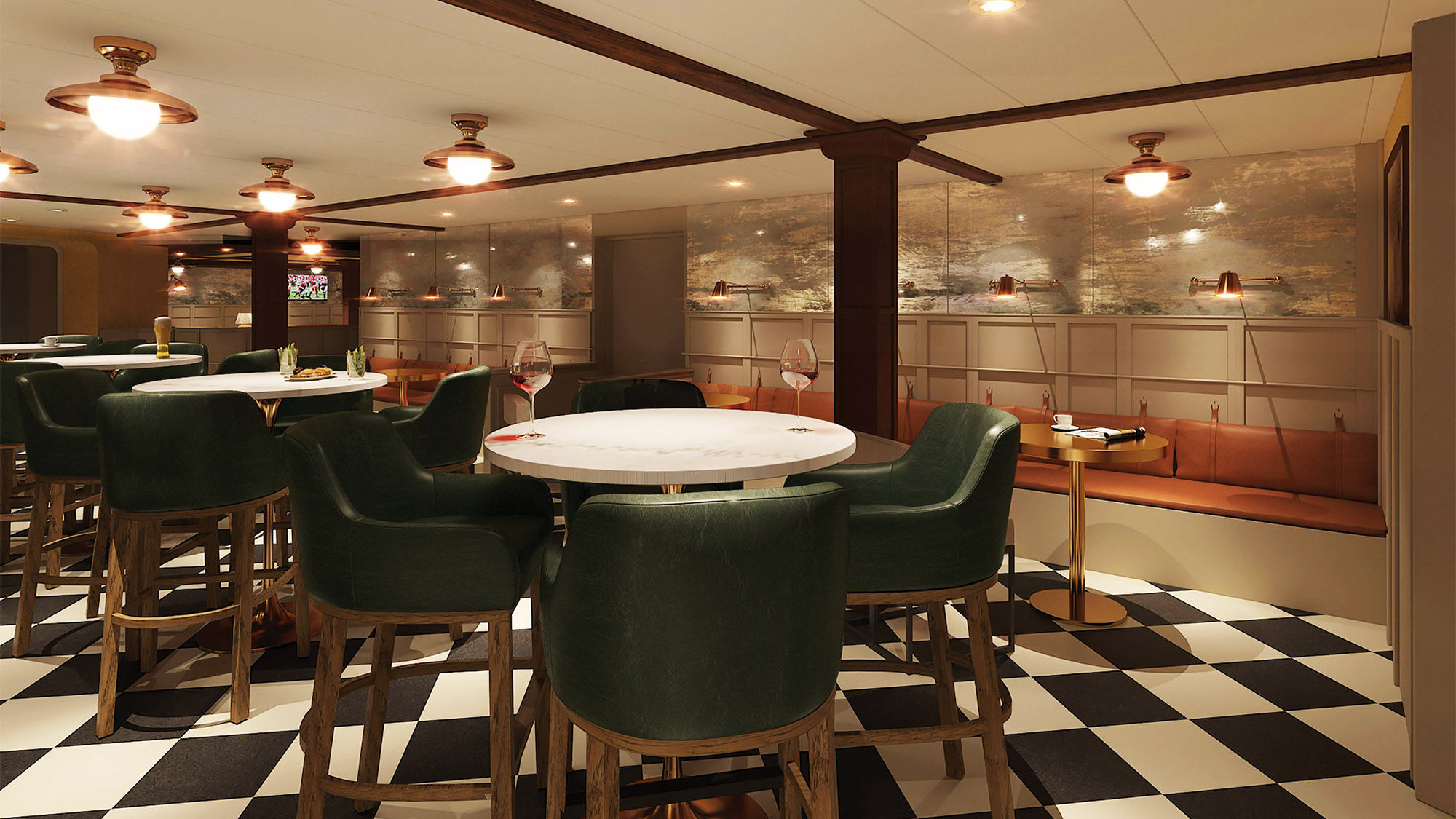 "The crew is the entire experience," Berkus said during a panel discussion on the ship, where he was joined by celebrity chef Daniel Boulud, who launched his first cruise ship restaurant on the Beyond, and the ship's captain, Kate McCue. "The highest honor I was given was to design the crew bar. And it was so fun. … It's my favorite place on the ship. It was such a meaningful thing."
Asking a celebrity designer to spend time on a space that guests will never see speaks to the Celebrity ethos that drew Berkus to the brand to begin with, he added, saying that when Celebrity first approached him, he had been skeptical of working with cruise ships, having never been on one before.
Addressing Celebrity CEO Lisa Lutoff-Perlo, who hosted the panel remotely via video, Berkus said that "the fact that you care so deeply about the crew's experience to make their own memories on their time off is 110% why I'm sitting here in this chair."
"We love our crew," she responded. "And I sure hope they know it." 
Source: Read Full Article