GOSHEN, N.Y. — The carousel at the Legoland New York is as cute as a button. Or as cute as a brick, to build on the Lego theme. My 6-year-old selected a Lego-fied orange tiger to ride, and I got on an animal meant to resemble an adorable Duplo bird.
A new sign posted at the ride's entrance told us that on a scale of zero to 10, with zero being low sensory stimulation and 10 being high, the Brick Party carousel rated a 2 for touch, a zero for taste, a 3 for sound, a 4 for sight and a 1 for smell. 
Those indications are part of an initiative at Legoland parks to give as much information as possible for guests who are on the autism spectrum or who have other sensory disorders.
All of the company's North American parks this spring will be certified autism centers by the International Board of Credentialing and Continuing Education Standards (IBCCES), which offers autism certification programs in the education, healthcare and travel sectors, among others. The program started at Legoland's Florida park near Orlando and was rolled out to parks in California and New York this year.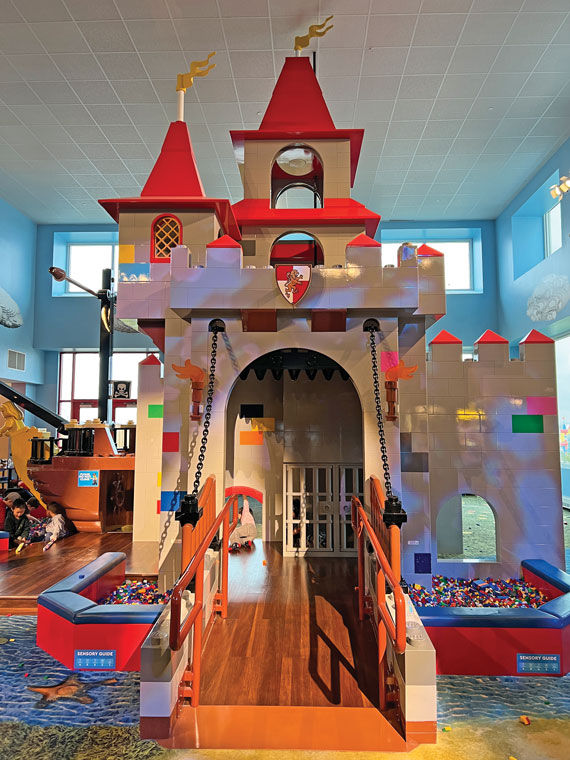 As part of the process, park employees, known as model citizens, have been trained to assist families with members on the autism spectrum. All park attractions have been labeled with the sensory guides so that families can judge whether a ride might be too intense. Quiet rooms have been set up for visitors who just need a break from the smells, sounds and sights of a typical theme park.
Related: Universal Orlando opens quiet room for guests with autism
"For us, it's really a no-brainer," said Matt Besterman, the public relations manager for Legoland New York. "We believe that awesome is for everyone. We want to be sure that we have all the tools we need to serve all the guests, no matter their challenges or abilities. 
"We know that we have a lot of inquiries from parents who have kids on the spectrum. As a parent myself, I know how much you have to plan any family vacation, and parents with kids on the autism spectrum have to be superplanners. That's what we're here to help with."
According to the CDC, about one in 36 children has been identified with autism spectrum disorder, and one in 6 has been diagnosed with a developmental disability, including autism and attention-deficit/hyperactivity disorder.
The IBCCES has accredited other travel brands, like Six Flags America, Sesame Place, the Peppa Pig Theme Park, destination marketing organizations, zoos, restaurants, museums and several hotels, including the Beaches resorts in Turks and Caicos and Jamaica. It also runs an accreditation program for travel advisors. 
Beyond the IBCCES, other parks have systems in place to cater to families with autistic members. Disney and Universal Studios have their own programs. And Royal Caribbean International works with a travel organization called Autism on the Seas; among other travel services, it schedules sailings with dedicated staff to schedule private entertainment venues and provide dining assistance and respite times.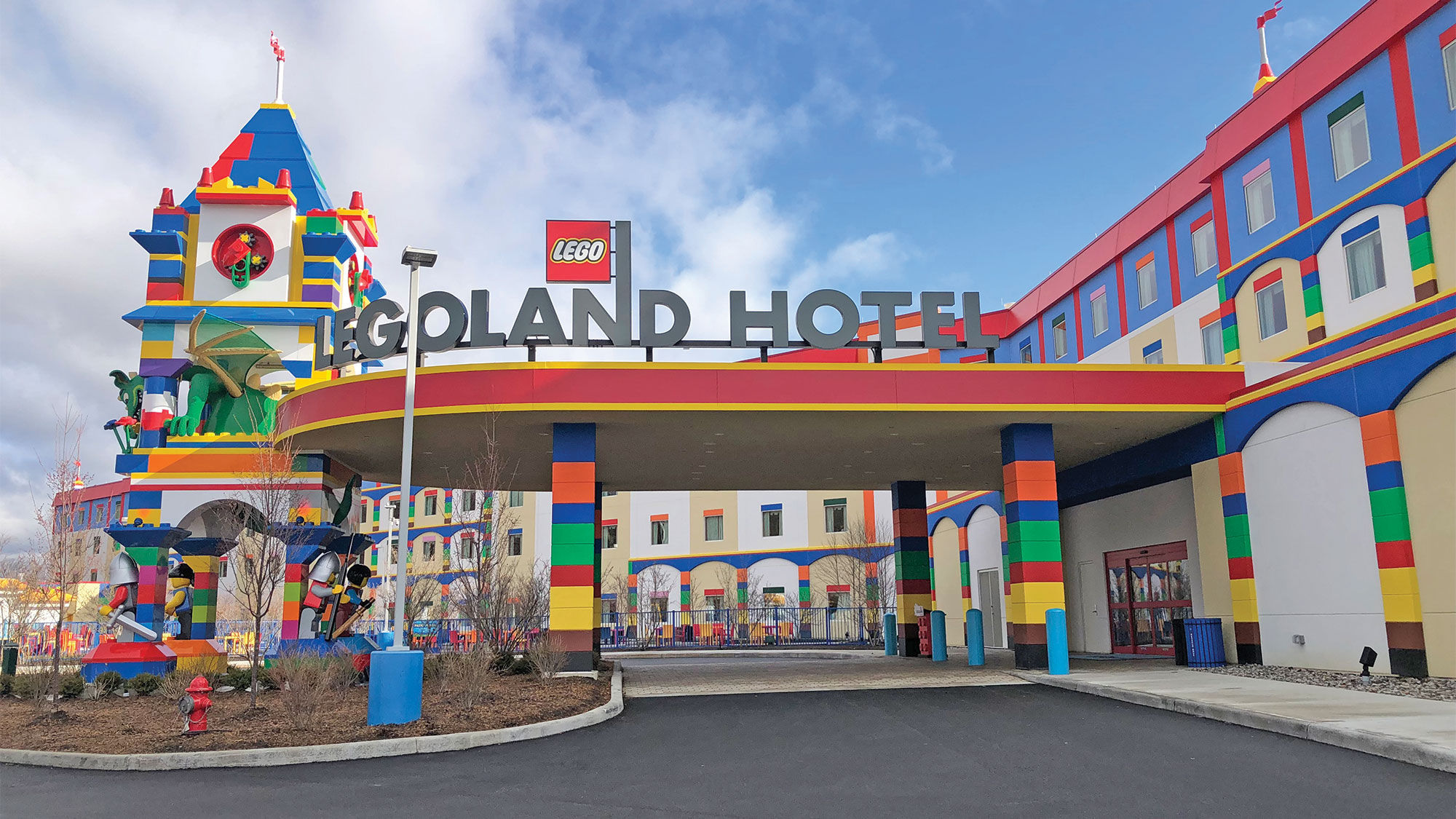 Although the park in Goshen, N.Y., made its official debut last summer, launching with seven themed lands across 150 hilly acres, it is already in expansion mode.
Nicole Thibault, owner of Magical Storybook Travels in Fairport, N.Y., an IBCCES-accredited agency, has produced a series of videos showing families what to expect at Legoland parks. Thibault, who has a son with autism, spoke highly of Legoland's certification.
"What I find amazing when I go to Legoland or an autism-certified destination is just a level of understanding," she said. "I don't have to feel like I have to explain myself if my kid is having a sensory meltdown. Or if we have a strange request. 
"There have been many times with my son … and the crowd level would just be too much for him," she said. "To go to a park employee and ask for a quiet space, people who have been through that training will understand and say, 'Yes, I can help you.'"
Having a 'bricktastic' day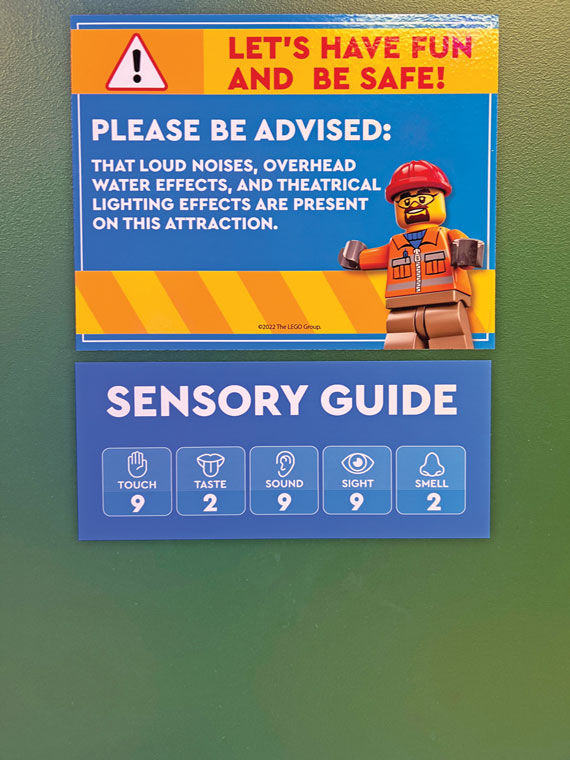 At Legoland, each ride has a priority lane, and families can request an assisted-access pass for those lanes at guest services. At the first aid station, guests can request earplugs to help with sound and overstimulation.
We tried the attraction with the highest sensory-stimulation numbers: The 4D theater, which shows short films that include physical effects such as water, wind and vibrating seats. But there are plenty of attractions at the park with low sensory-stimulation ratings and self-directed playgrounds.
Inside the Duplo Family Center in the New York park there are three curtained-off areas for those who need a break, each with a separate dimmer switch, swinging pod chair, a weighted blanket and a water-bubble lamp.
As part of the rollout at Legoland New York, the park invited guests, via accessibility-focused community partners and its parent company's charity, Merlin's Magic Wand, to preview the enhancements ahead of the park's seasonal opening March 31. Besterman said that there were more than 1,000 sign-ups.
Unfortunately, March weather can be unpredictable in New York, and Legoland's pre-opening day was cold and rainy, with at least one bout of freezing rain. 
We did the best we could, touring the different lands with an eye on the attractions' sensory guides. But the kids didn't especially seem to let the rain get them down, and friendly model citizens urged us to have "a bricktastic day." 
We eventually found refuge inside the Legoland Hotel, which has a play structure shaped like a castle and a pirate ship in the lobby, with ball pits filled with Legos (sensory guide: 4 for touch, zero for taste, 4 for sound, 3 for sight and 1 for smell). 
On a scale of 1 to 10, my daughter gave Legoland "a 72." 
Source: Read Full Article