PLAYA DEL CARMEN, Mexico — The future of luxury all-inclusives is here. 
Specifically, here at the recently opened 198-room Secrets Impression Moxche, where the concept of "barefoot luxury" is, at times, taken quite literally.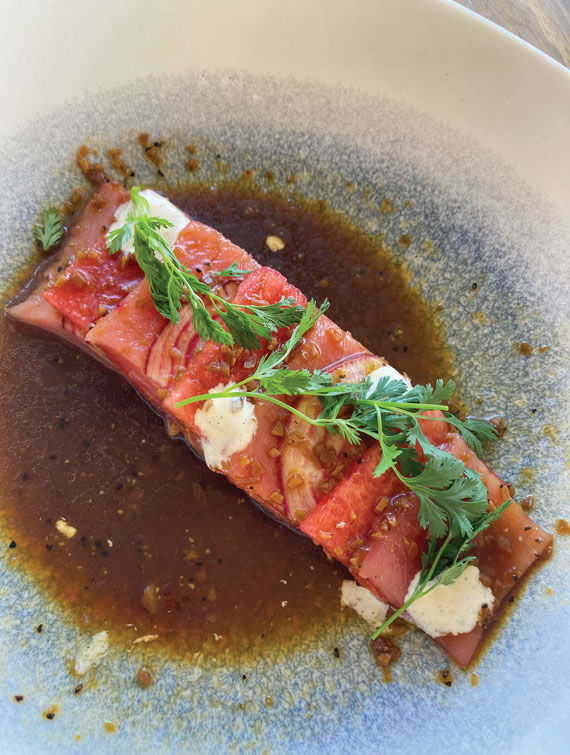 Take, for example, the experience at the property's Seaside Beach Club, which offers a beachfront alfresco seating area that sits upon a stretch of soft sand. Guests are invited to kick off their shoes as they indulge in decadent fare like a bluefin tuna tiradito, featuring thin layers of tuna and fresh watermelon with a lime-and-wasabi-infused ponzu, or a wagyu burger dressed with chimichurri.
Shoes are also optional around the Secrets Impression Moxche's rooftop infinity-edge pool, where sunbathers can opt for lounge chairs or a complimentary curtained Bali bed. A poolside menu available from the nearby Cielo Impression Rooftop restaurant has highlights like a vegan coconut ceviche and vegan tacos, the latter made with savory shredded jackfruit, roasted onion and avocado puree.
Whether enjoyed barefoot or not, food is certainly a standout at the Secrets Impression Moxche. The resort, which made its debut in December as part of Hyatt's Inclusive Collection portfolio, offers a robust culinary program helmed by chef Karla Enciso and pastry chef Mara Carrillo, who also oversee F&B at sister all-inclusive Secrets Moxche Playa del Carmen, located just next door.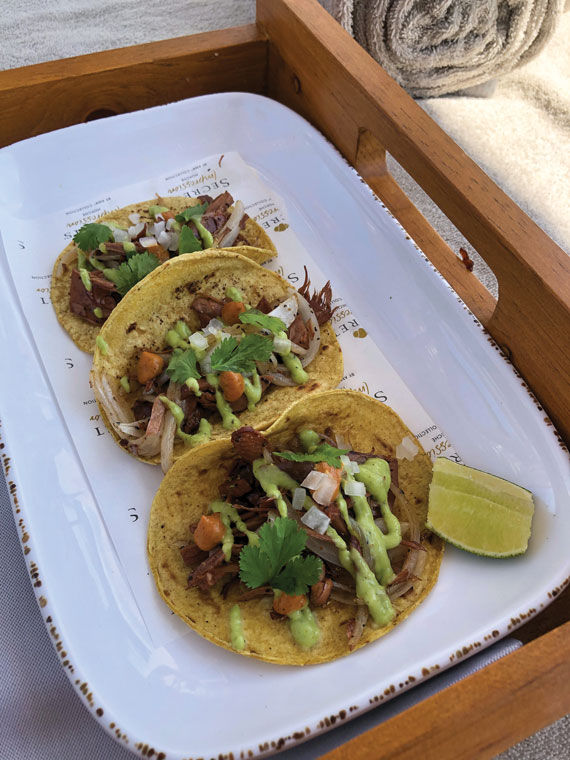 Secrets Impression Moxche guests have access to all the dining venues and amenities across both properties, which together comprise 14 restaurants and 12 bars and lounges.
During a three-night stay in late March at the Secrets Impression Moxche, the sheer number of culinary options available felt dizzying. While one could dine solely at the Secrets Impression Moxche during a short stay and be satisfied, there were plenty of delicious bites well worth the quick walk to the Secrets Moxche, from the grilled oysters at open-fire cooking concept Ember to a short rib and black mole taco served as part of a special taco tasting at the Mexican restaurant Dos Almas.
Notably, reservations aren't required at the vast majority of both properties' restaurants. The few exceptions include the high-end tasting menu experience at Secrets Impression Moxche's Teodoro and the hibachi and sushi omakase offerings at the Secrets Moxche's Japanese eatery, Suki. (The Teodoro and omakase experiences are available at an upcharge, though Teodoro is complimentary for Secrets Impression Moxche guests staying more than five nights.)
The dining scene is a major draw, but other luxury elements don't take a back seat at the Secrets Impression Moxche. 
Design aficionados will find plenty to appreciate in the guestrooms, which showcase a sophisticated-yet-rustic aesthetic, heavy on the wood accents, dark stone finishes and natural fiber décor. My oceanfront suite also featured a pair of massive bathtubs, with one serving as the bathroom centerpiece and the second situated outside on a spacious terrace.
Other details abound, from the motorized blinds that open and close with the push of a bedside button to the minibar stocked with goodies like Nespresso pods, bottles of red and white wine tucked away in their own dedicated wine fridge and — the ultimate luxury for this soda snob — Mexican Coca-Cola in glass bottles. 
In addition to unfettered access to the Secrets Moxche, there's a long list of other perks included as part of a Secrets Impression stay: 24-hour room service, complimentary laundry service, the choice of one complimentary 25-minute spa treatment and, most importantly, butler service.
While some type of butler or other personalized concierge service is practically standard at most top-tier all-inclusives these days, it can be a rarely utilized amenity for low-maintenance and somewhat stubborn travelers like myself, who ask staff for help only as a last resort.
My butlers at the Secrets Impression Moxche, Maili and Mariela, however, were sunshine personified, cheerfully escorting me to lunch after check-in and greeting me every morning via WhatsApp with a schedule of events and activities.
One night after dinner, I came back to my room to discover my butlers had prepared a hot bath, topped with a mountain of fragrant bubbles. It was a pleasant surprise, and something I would have never thought of requesting on my own.
As I soaked in the tub, ice-cold Coke in hand, it was clear that the Secrets Impression Moxche was managing to overdeliver on what was once, not so very long ago, considered a near impossibility: a truly luxurious, five-star, all-inclusive experience.
Source: Read Full Article