ONBOARD THE OCEANIA VISTA — "Opulent." "Gilded." "Luxury."
These were a few of the words guests and travel advisors on the Oceania Vista's christening cruise used to describe the 1,200-passenger ship and swan song for retiring Norwegian Cruise Line Holdings CEO Frank Del Rio, who founded Oceania.
Adorned with a contemporary flair, bigger bathrooms and a 10-to-1 guest-to-chef ratio, advisors said the Vista represents a logical evolution for a brand with an 11-year dry spell since its last new ship.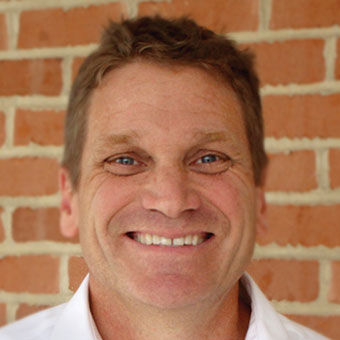 "My gut reaction is it's going to do extremely well," said Geoff Cox, vice president of sales for Brunswick, Ohio-based host agency KHM Travel Group (No. 33 on Travel Weekly's 2022 Power List). The Vista is easy to navigate, has a luxurious feel, and the service is strong, he said.
Cox was most impressed by the size and features of the cabin bathrooms.
"You could put three people in the shower," he said. "Anybody who's gone on lots of cruises is going to want to go sit in the bathroom to enjoy the bathroom."
Del Rio has been known to get so involved in building stateroom spaces that he would stand in shower stalls to see if they were large enough. The bathroom also includes a large, attractive, circular mirror with a built-in touch-sensor light, five drawers and an under-the-sink ledge. A three-shelf, mirrored medicine cabinet in the corner came in handy when my guest and I put the finishing touches on our makeup at the same time before heading to dinner. 
"We want it to be better than home," said Greg Walton, founding partner at Studio Dado, which designed the Vista.
First Call: Oceania Vista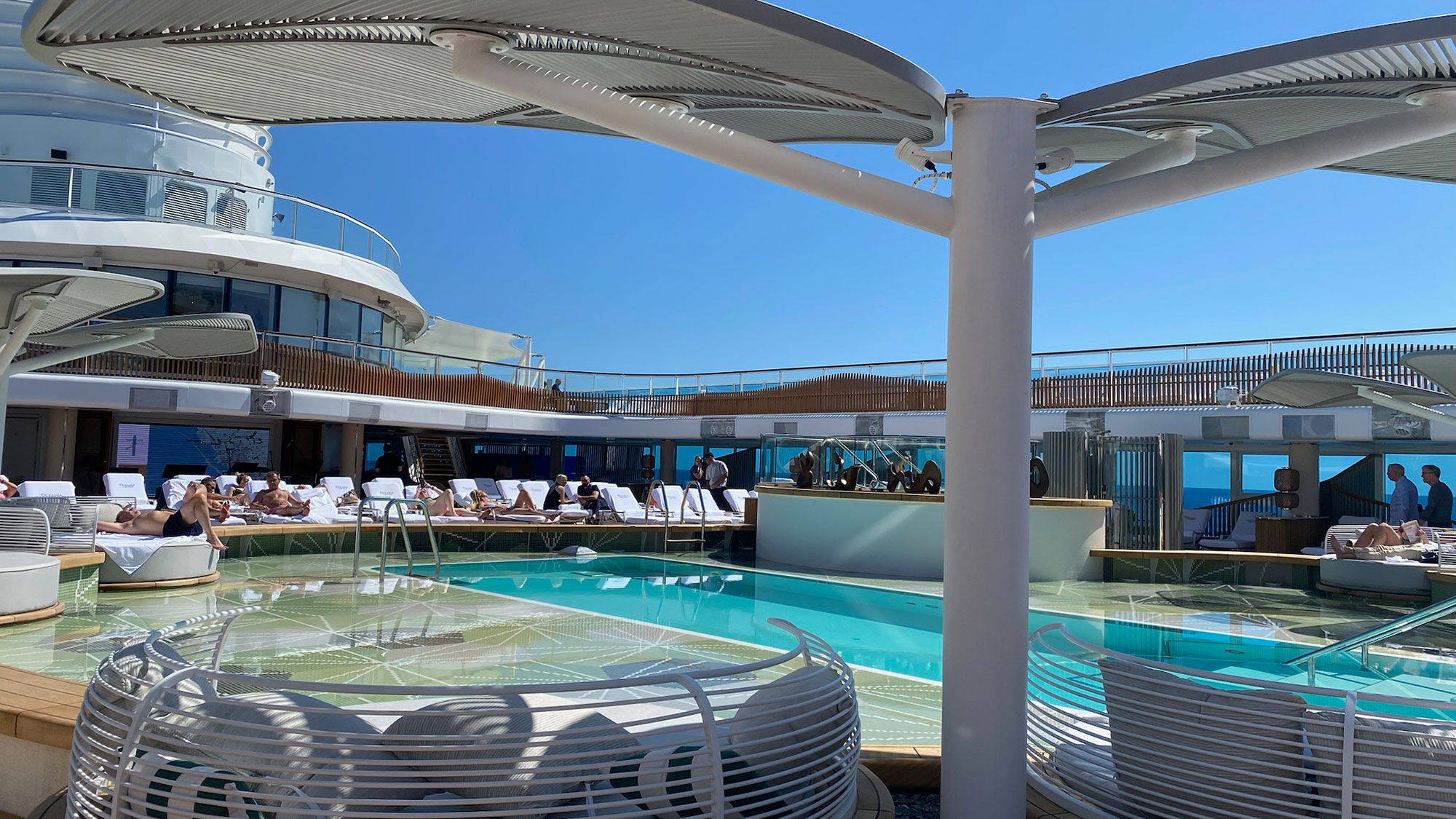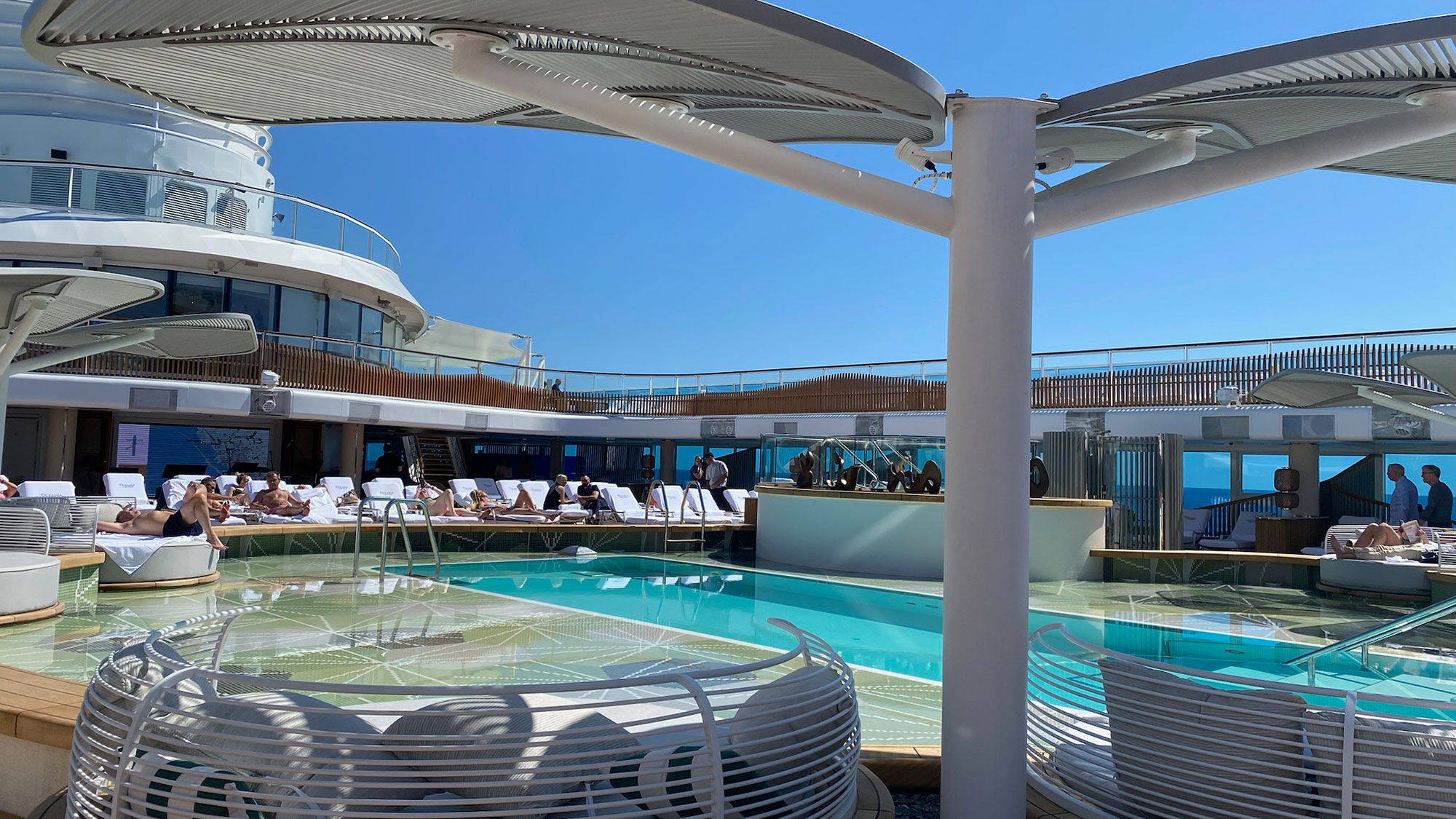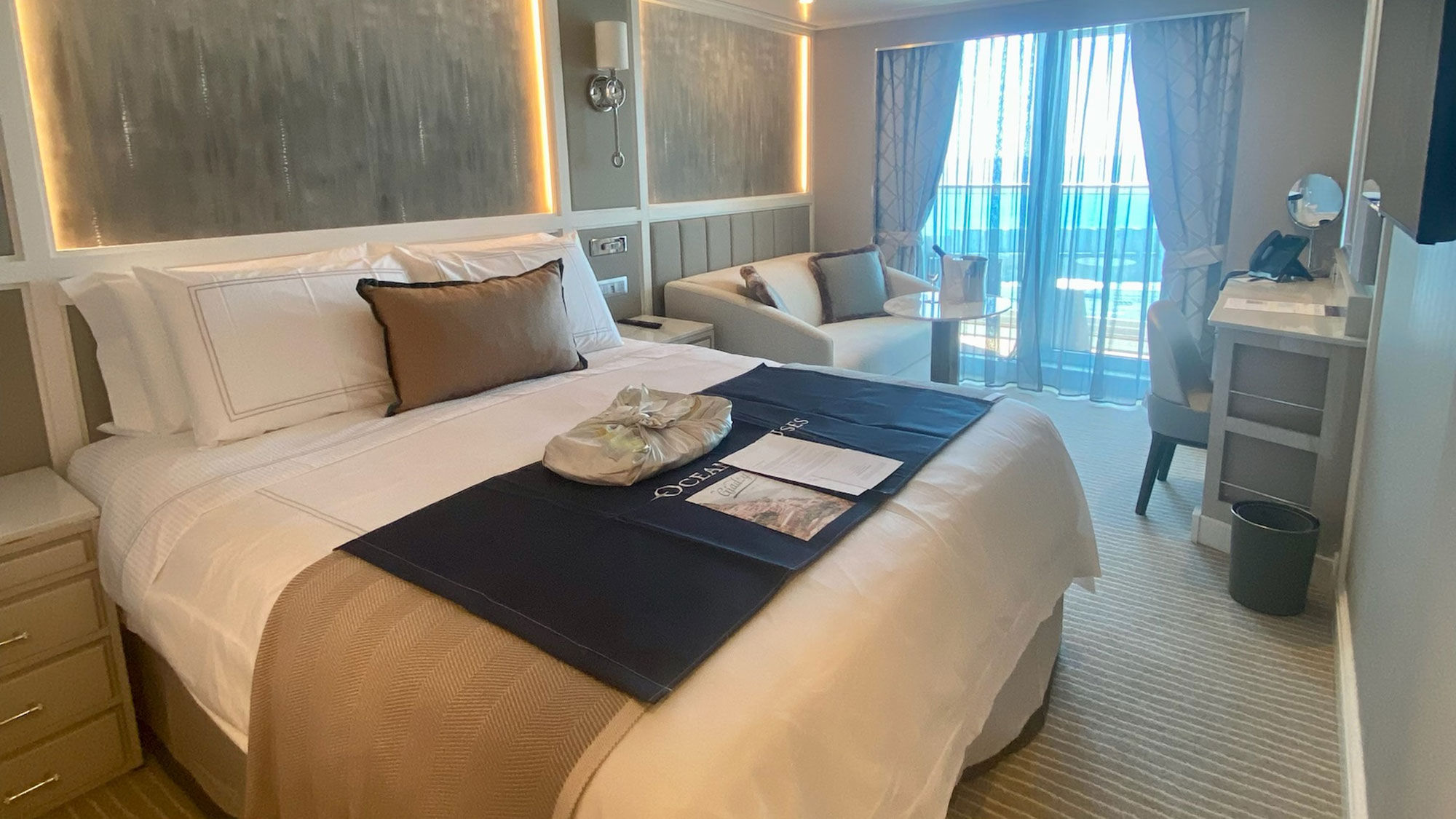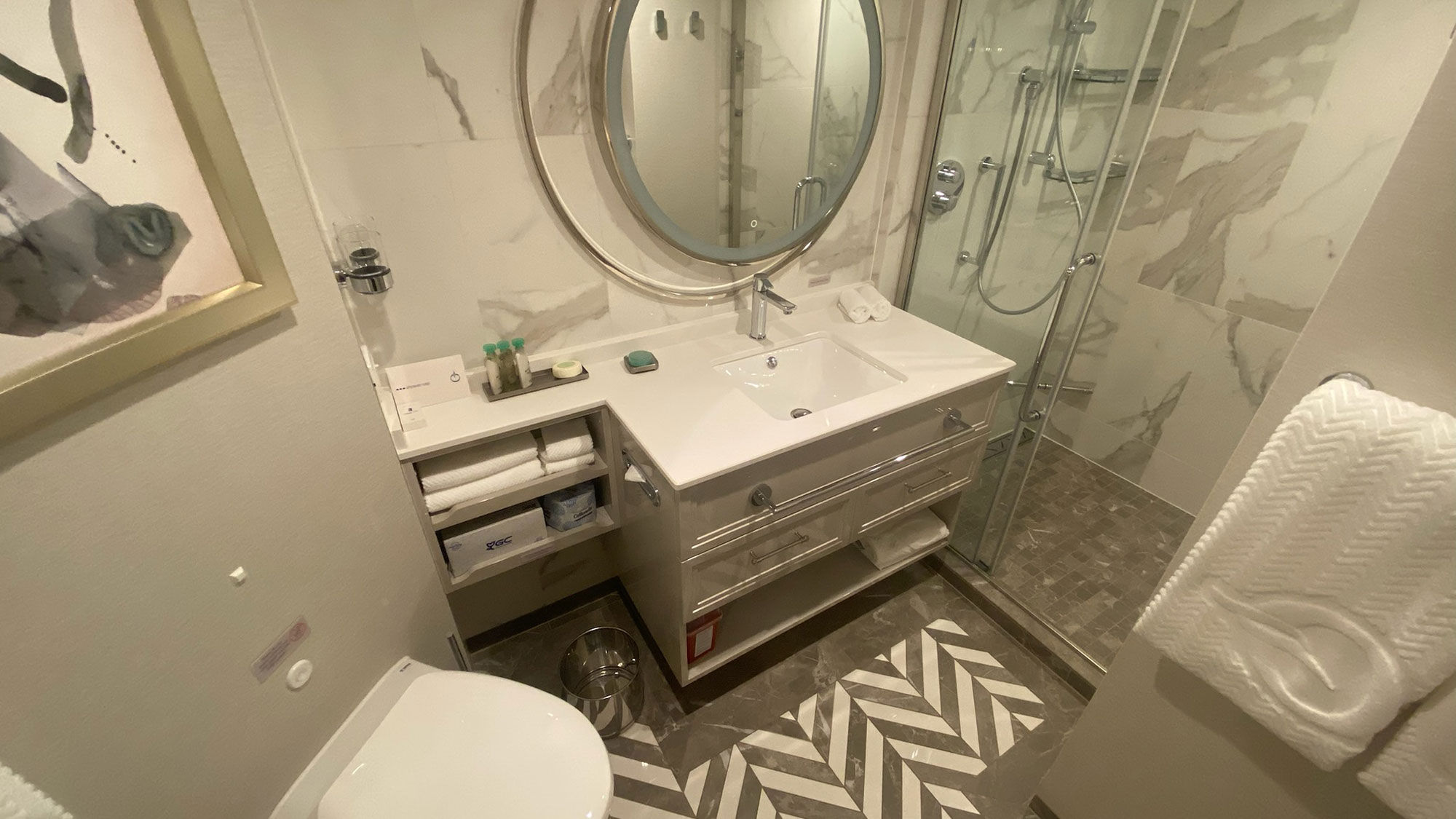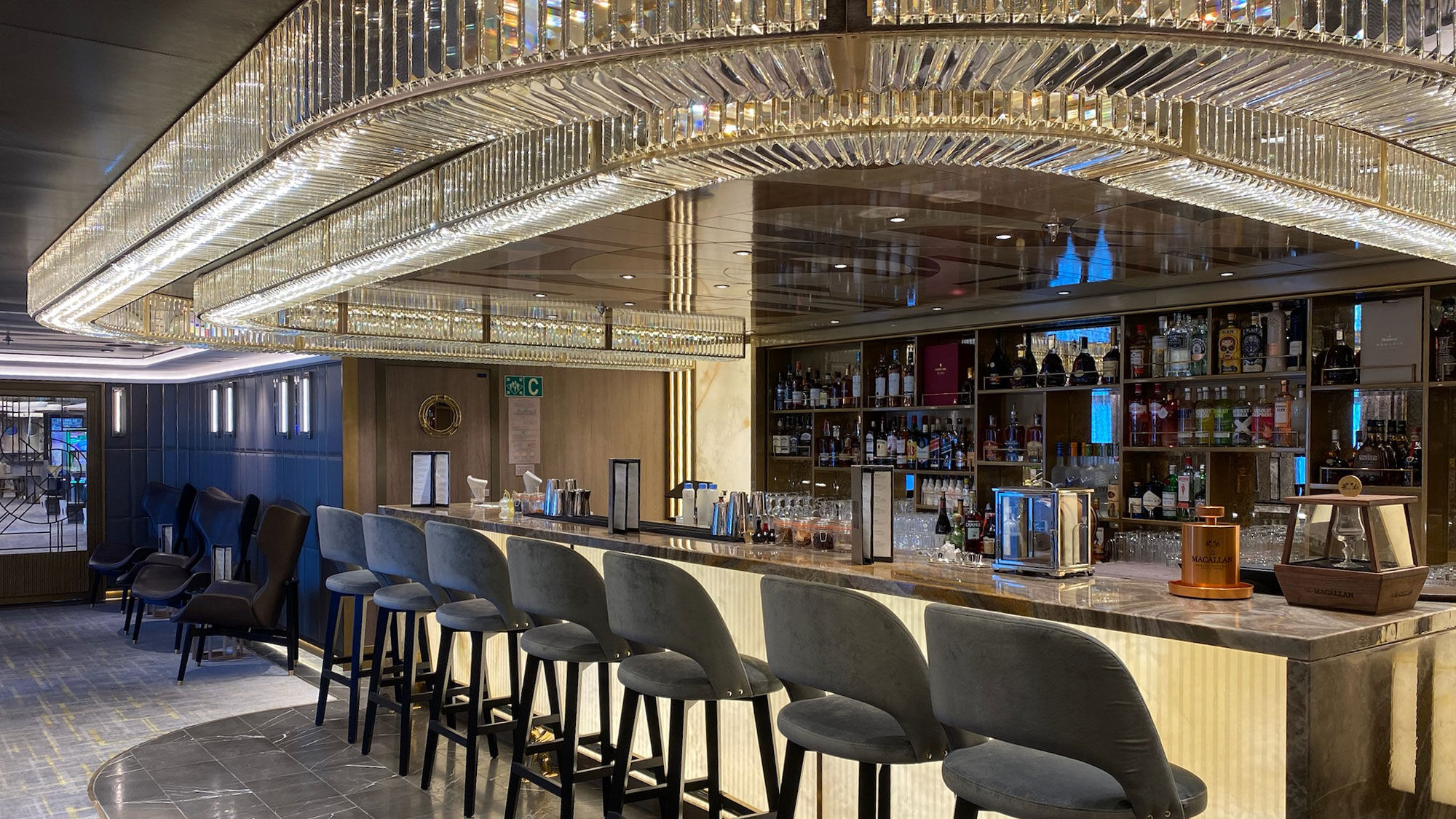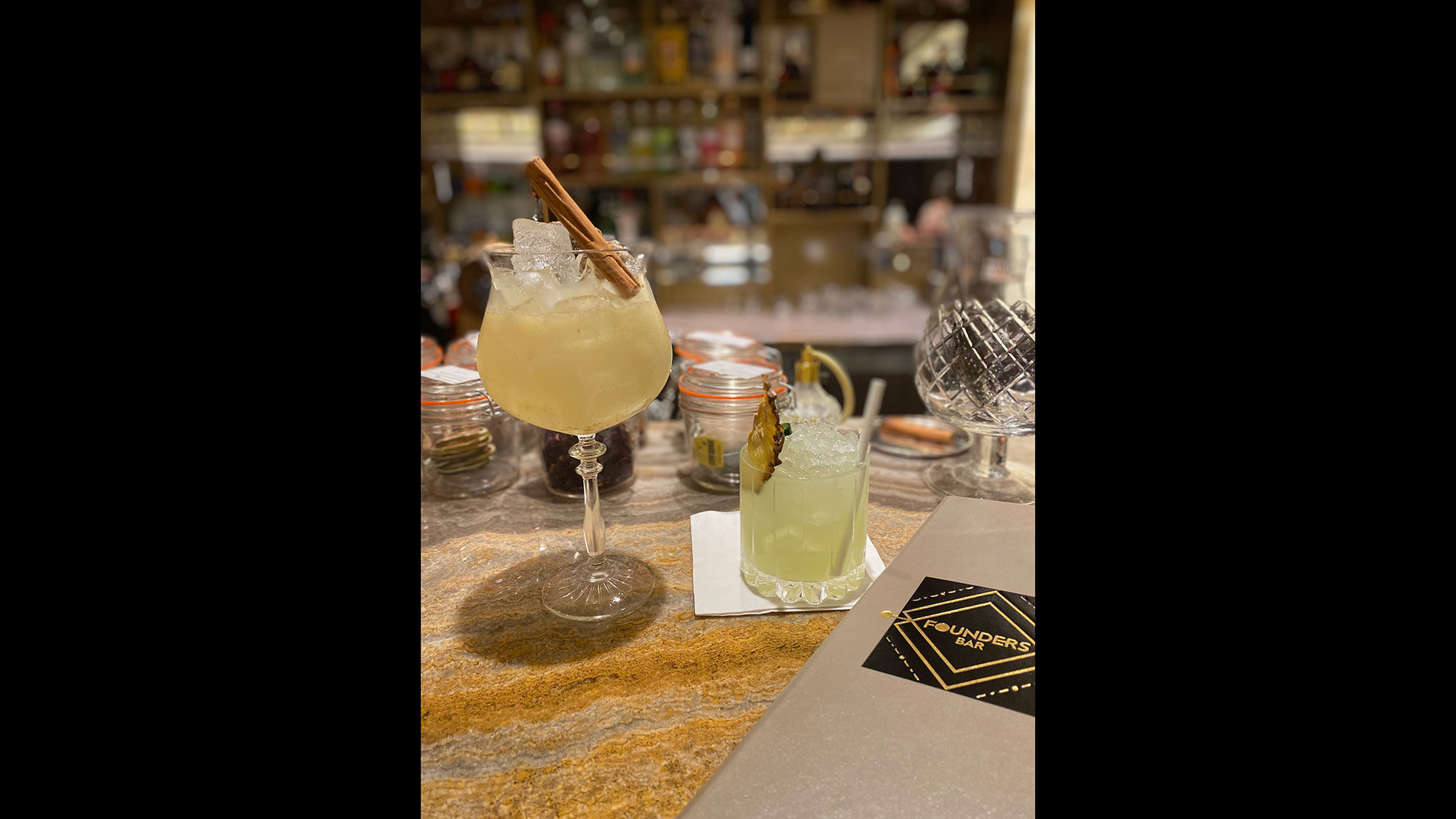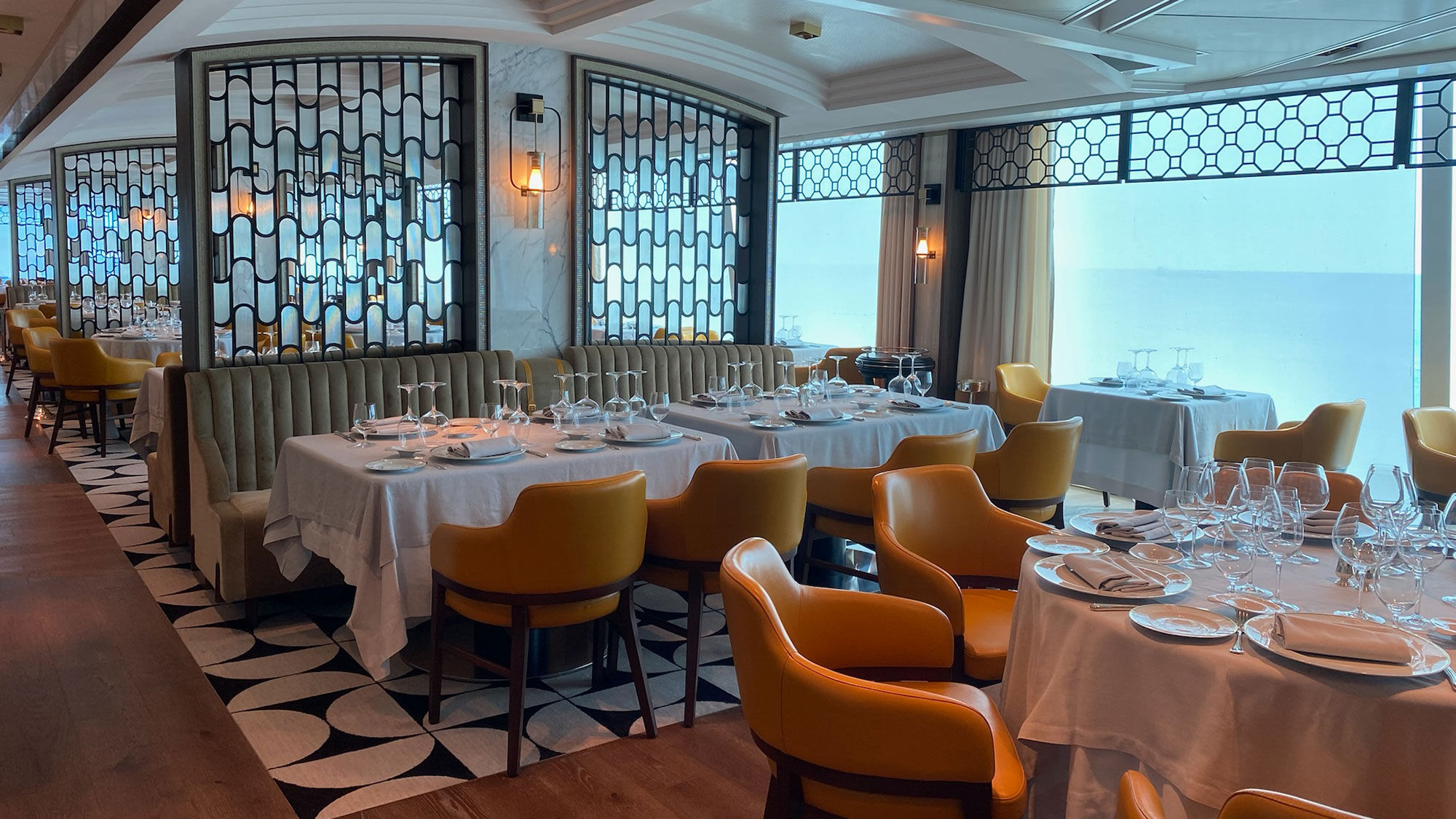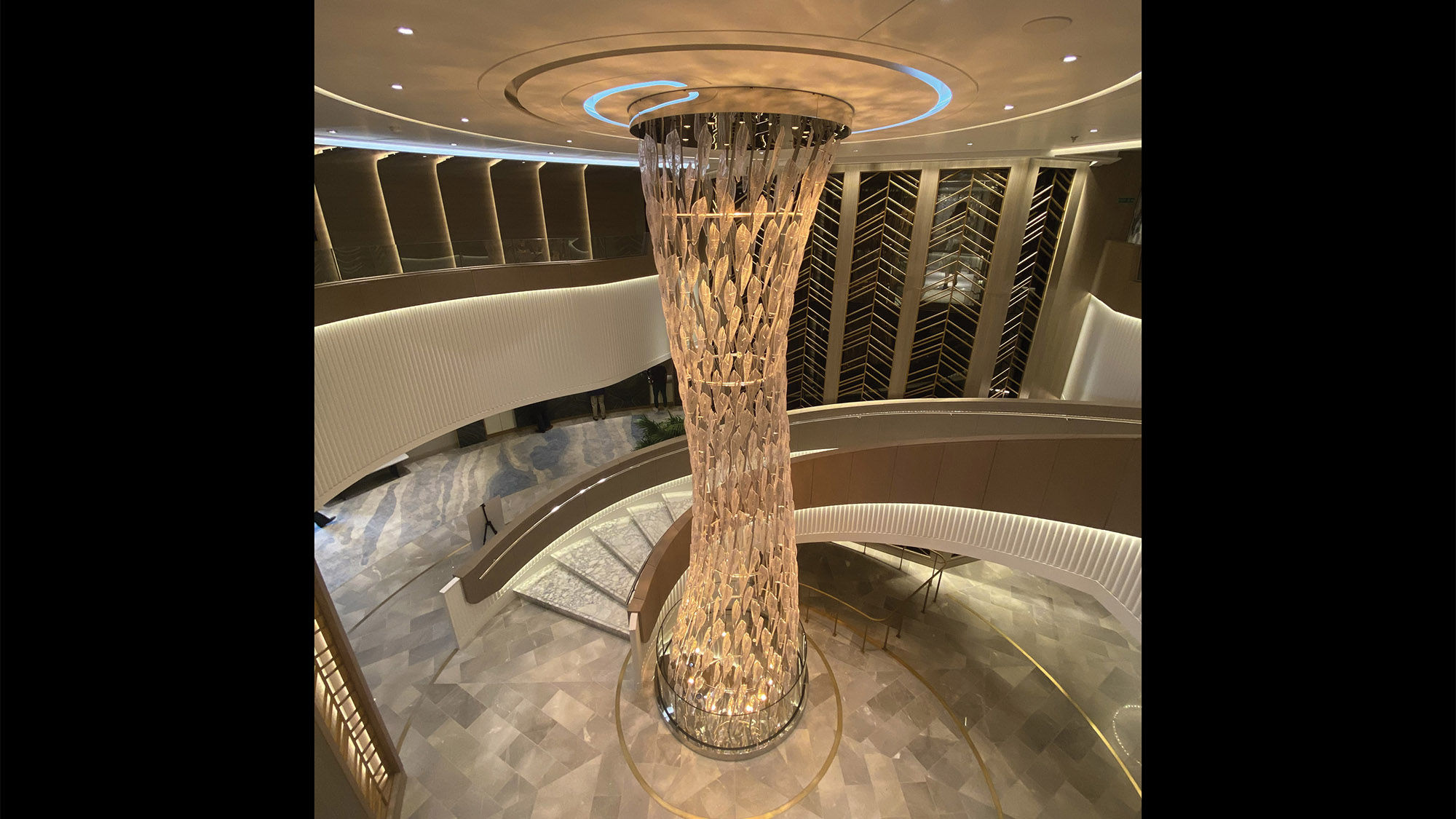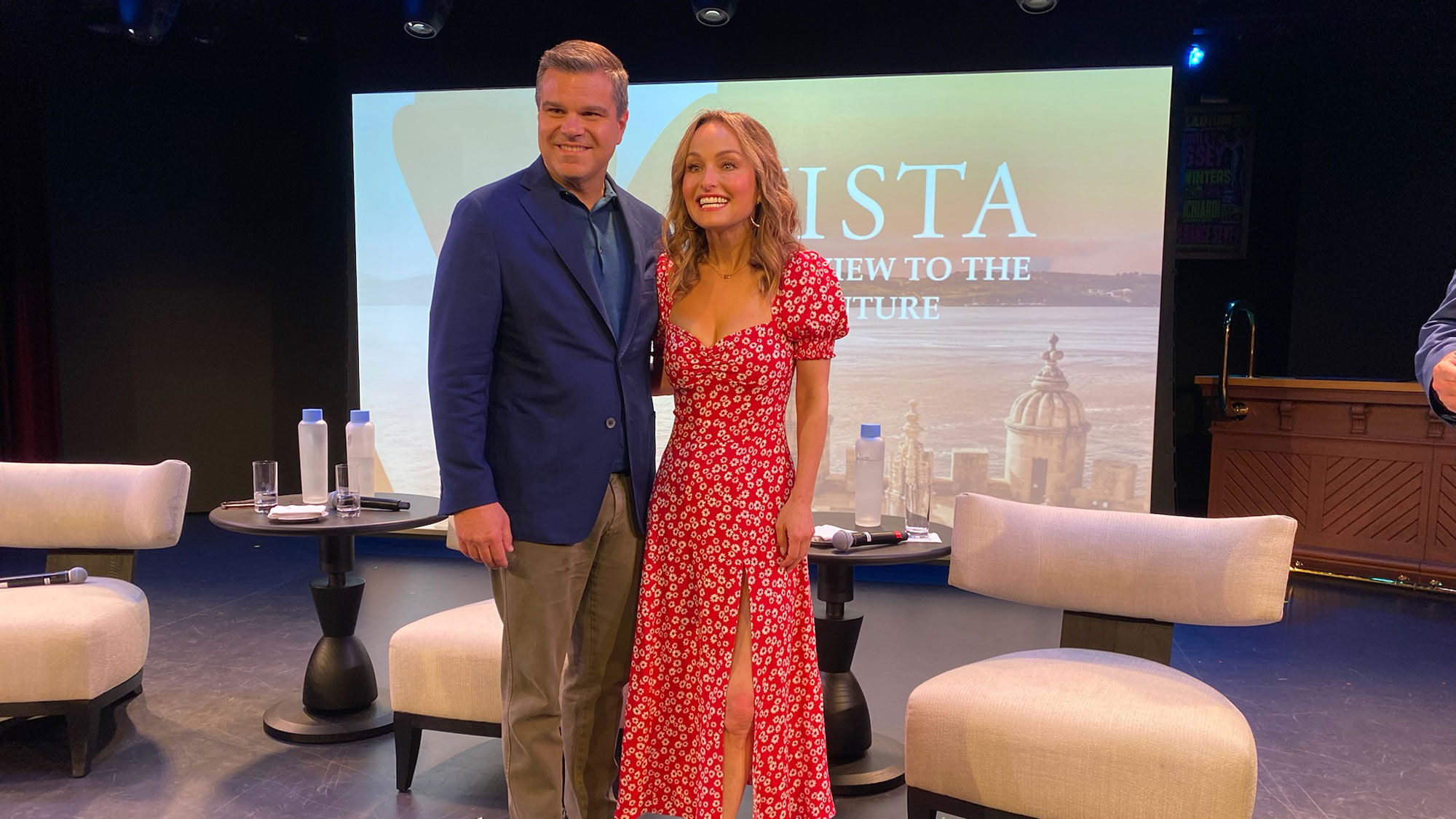 Other design features include an eye-catching abstract art installation in the atrium stretching two decks high.
Hundreds of identical pieces that look like glass or ice — or as my guest suggested, fish — hung from the ceiling in the shape of a concave tunnel, which was illuminated with shades of white light that shifted every few seconds.
Public spaces on the Vista are often simple, subtle and use clean lines. Walton said Studio Dado was instructed to give the Vista a contemporary style to appeal to the Oceania guest. For instance, Italian restaurant Toscana, found on all but one of Oceania's ships, was designed with simple curves in its partitions and a playful mosaic of birds made of small tiles. 
Contemporary concave curves are also built into the new Embers restaurant, serving classic American fare on Deck 5. The high, brick-like ceilings are curved and create a feeling of being in a down-to-earth steakhouse.
Other new features focus on food and beverage. The Founders Bar expands the line's cocktail offerings by introducing complex drinks, including some topped with vapor bubbles, such as of citrus and mixed berry, for a boost of aroma. And Barista, a popular coffee spot, now includes a bakery serving quiches and pastries. 
Another new space, the Aquamar Restaurant, serves casual "wellness" fare, such as energy bowls, smoothies, banana pancakes and mocktails. During my morning visit, I dined on an acai berry bowl with granola that was tasty, while my guest had avocado toast on gluten-free bread. 
Oceania's focus on cuisine led the line to invest in its culinary program with its guest-to-chef ratio and a larger Culinary Center with higher ceilings and 24 stations for cooking classes and lectures. Oceania also offers 65 culinary tours across the brand, with plans to expand by 10 tours each year.
In many ways, Vista is a luxury ship
Some agents said Oceania feels so much like a luxury ship it could compete with its luxe sister line, Regent Seven Seas Cruises.
"I can see the blurring of the lines," said Cox, who worked in business development for Royal Caribbean International and Carnival Cruise Line for almost two decades before joining KHM. "It would be hard to say what really is truly different to the experience, other than on one I can drink as much booze as I want and the other I'll be paying for it," he said, referring to Regent being all-inclusive.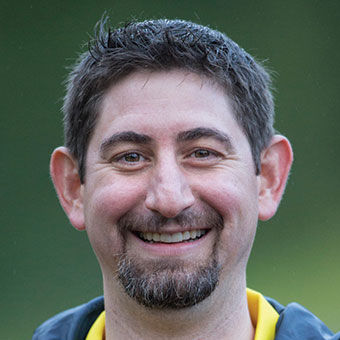 The feel of the Vista compared to Regent is "very similar," said Danny Genung, CEO of Harr Travel in Redlands, Calif. "If you're only focused on aesthetic, it's not that different," adding that even the upscale Haven suites on contemporary sister brand Norwegian Cruise Line's new ship, the Prima, don't look "that different from this."
Oceania's senior vice president of global sales, Nikki Upshaw, acknowledged that agents have asked about the brand's market position given the Vista's high-end design. "The ship itself, yes, is luxury. You might say it rivals our luxury sister brand," she said, adding that Regent is more formal. "But it comes down to the essence of what the entire experience is," she said, and a difference between the two is in whether guests want an a la carte or an all-inclusive experience, which come with different price points.
Source: Read Full Article