I'm not exaggerating when I say I still can't figure out my favorite thing about the Hotel de la Ville, Rocco Forte Hotels' newest property in Rome.
It might have been the decor in our room, which was everything you'd want in a refined Roman apartment, as if owned by your wealthy friend who has maybe written a book on classical literature — and has just stepped out of sight to mix you a Negroni. Think 10-foot ceilings and herringbone wood floors, antique desks and mirrors, handmade wallpaper, modern fabrics, pink orchids on the coffee table, a stack of hardcover books and Roman busts on pedestals casually accenting the room.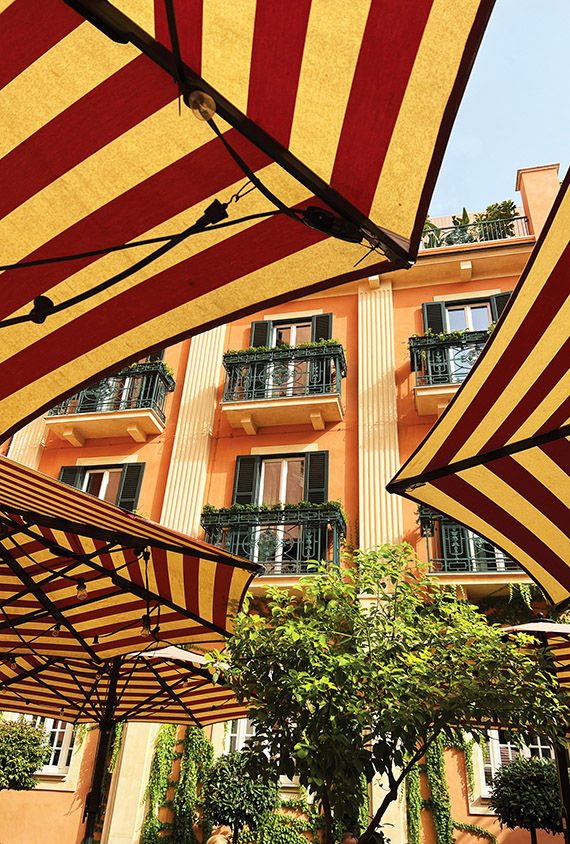 It could have been the floor-to-ceiling doors that opened onto small balconies with flower boxes (every morning a gardener came in to tend to the blooms). Or maybe that one door that opened to a gigantic, private terrace with upholstered garden furniture and a table big enough to seat six. Those outdoor spaces overlook the Hotel de la Ville's courtyard, which is dotted with cheerful tan-and-red umbrellas that shaded diners from the late-summer sun.
Or it was probably the breakfast buffet, which was unquestionably in my Top 5 Hotel Breakfast Buffets of All Time. Cakes and cold meats and cheese and pastries and breads and fruits and quiches and tomatoes and homemade doughnuts and salads — and that's all before the coffee and menu items.
Then again, it might have been the Champagne.
It would have been the rooftop bar, Cielo, had it been open, though I did step out and take in the views of Rome's duomos and rooftops, with the hills in the distance.
It likely was drinking the Champagne as a summer storm approached.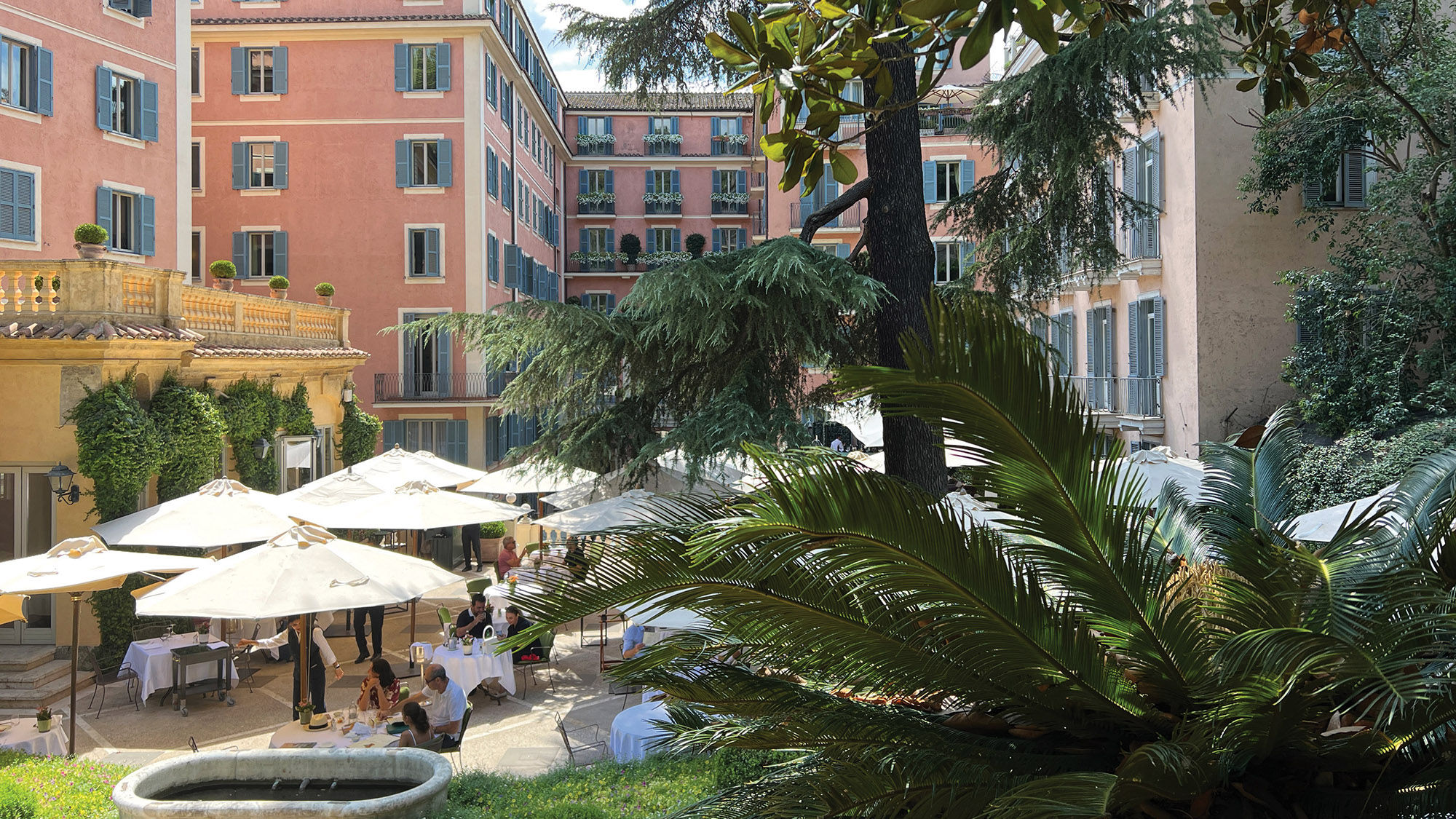 It's hard to talk about the Hotel de la Ville without mentioning Rocco Forte's other Rome properties.
It also could have been the relationship with the staff, which could have been that very starchy, old-fashioned "luxury hotel" vibe but instead was open and good humored in the American way. The concierges introduced themselves to me by first name.
It may also be the location, right at the top of the Spanish Steps and within walking distance of many neighborhoods, shops, restaurants and sights, including its sister hotel, the Hotel de Russie near the Piazza del Popolo. 
As you can see, I was very conflicted about my favorite thing. And that was a great state to be in during a two-day stay in the Eternal City.
No vacancies
Apparently many other travelers were excited to drop a few euros on the luxuries of the Rocco Forte hotels and be happily awash in confusion this year. "The hotels are really busy," said Phillip Haller, the vice president of brand marketing for Rocco Forte. "We were fully booked many days over the summer."
In a noteworthy trend, Haller said that guests were booking longer stays and splurging on the best accommodations and added that the hotels hosted several anniversaries and reunions this summer.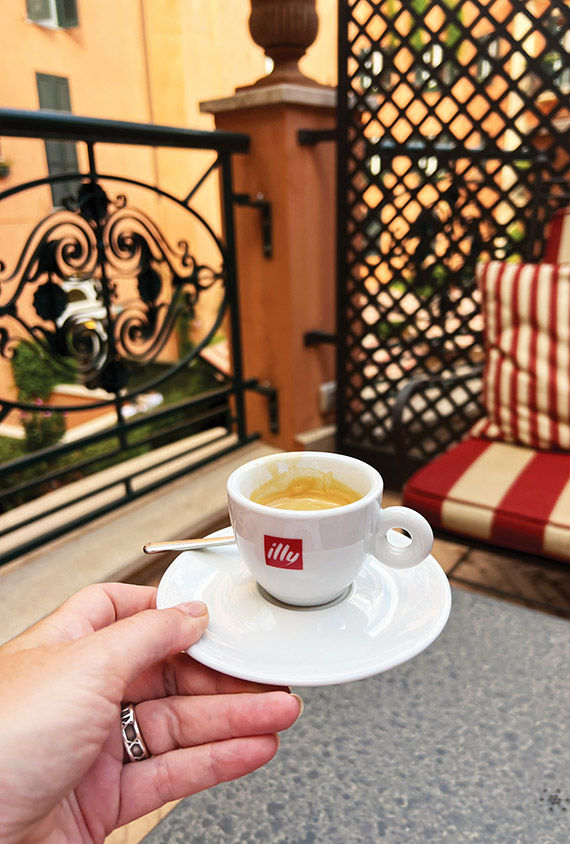 As far as top suites go, I can recommend the Grand Suite With Terrace, which was a surprise upgrade for us. Along with a separate living room, the private terrace and a gigantic, marble-faced bathroom with separate shower and tub, a connection to the next-door room created a three-room ultrasuite, which was a luxurious amount of room for a family of four.
Another option is the Suite de la Ville, a nearly 1,000-square-foot apartment-and-terrace combo with private elevator, magnificent views on two sides, a dining room for eight, living room and separate study.
Haller confirmed what I was told at the Hotel de la Ville, which was that some clients would book a room for a month or more and use it as an apartment-style base, leaving for days at a time to visit other Italian towns. 
The hotel opened under Rocco Forte Hotels in 2019 after a major renovation of the old property; Rocco Forte also took over an adjacent apartment building and combined the two, creating the romantic courtyard. Due to the pandemic pause, the de la Ville is a practically new property.
Source: Read Full Article