KARLOVY VARY, Czech Republic — The Grandhotel Pupp dates to 1701; however, the two main buildings that one sees, and sleeps in, date from the late-19th century heyday of Czech spa towns — and a time when Karlovy Vary was called Carlsbad.
Its parkside wing was built in 1877, but the property sealed its claim to a "grand" name with construction of the larger riverside wing in 1894.
In 1988, I traveled by car with a colleague to Karlovy Vary. On that dreary November day, it was no problem getting a couple of rooms at the Grandhotel, then the Grandhotel Moskva. My room cost $23, but I don't know if breakfast was included. It probably was.
In my diary, I called it a "well-named old thing." In addition, I said: "Featuring high ceilings, large eating rooms, good-sized bedrooms (esp. for singles), wide long halls, etc., it also offered, for me, a great view of the winding river stream and twin rows of rundown houses, shops and small hotels lining the waterway."
In May I returned as a guest of CzechTourism, in order to attend that organization's Travel Trade Day. This time, the hotel shone in the light of a sunny spring day. Those spacious interior public spaces looked bright and airy, with their belle epoque decor beautifully maintained.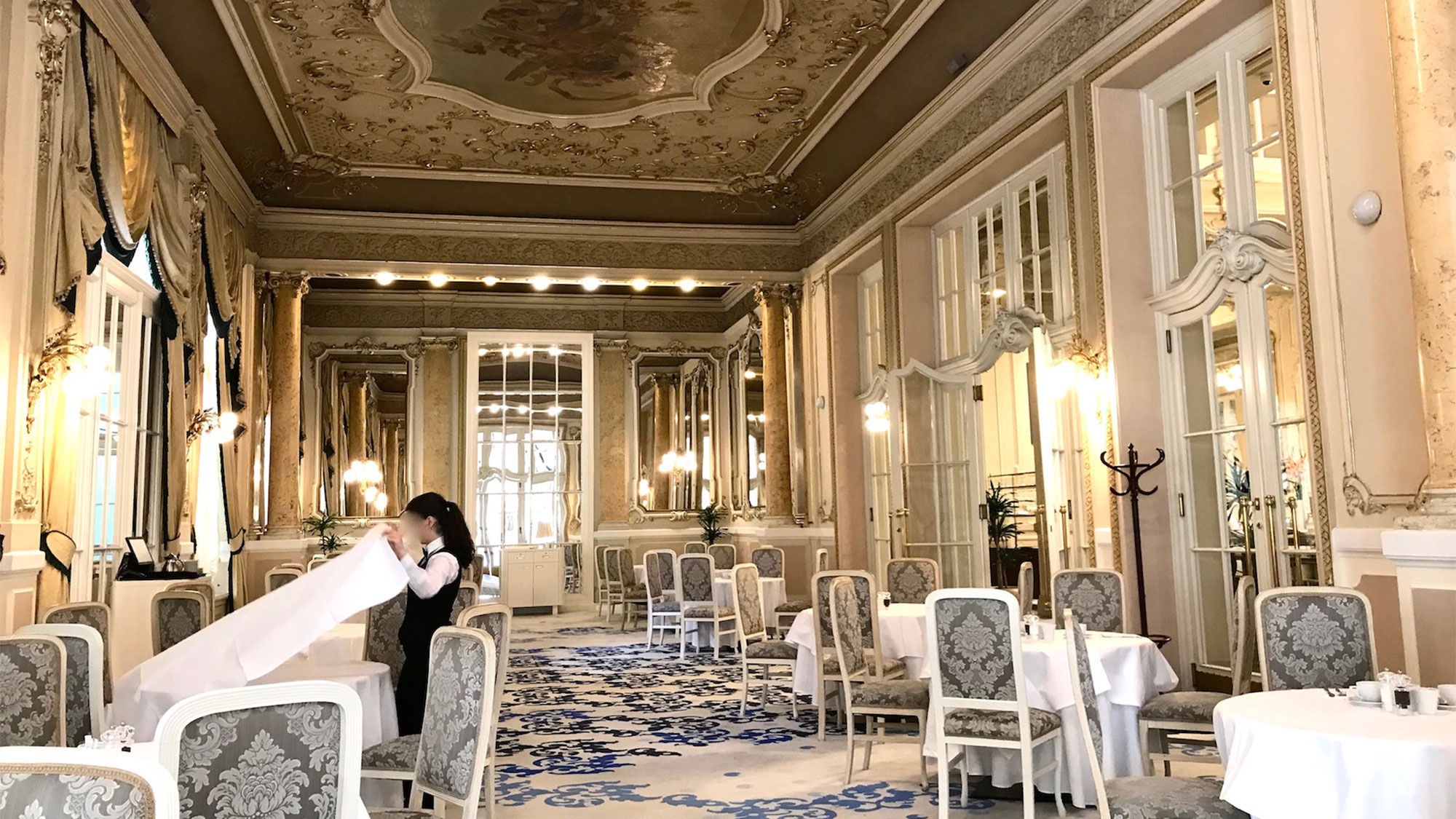 My room was in the older, parkside wing, where again I marveled at how wide the halls were and also how tall the room doors were, now accessed with key cards, not keys.
• Related: United takes the lead in lift to Europe
However, my room did not match the promise of the public spaces. It had WiFi and a sizeable flat-screen TV. Also, the bed and seating were comfortable, but design choices seemed outdated, and in my large room, the space looked oddly under furnished.
Mine was a Comfort Room, meaning the most basic. I later saw a Superior Room, the most basic in the riverside wing; it wasn't significantly different, but there were pictures on the walls, and the bathroom looked snazzier.
I don't mean to sound cranky; I hasten to say I was thrilled to be back in the 228-room Grandhotel and back in Karlovy Vary (where all those buildings lining the Tepla River look a lot spiffier than when I first saw them). Also, the Comfort Room, at about $156 (150 euros) for two, including breakfast, is a good deal. That puts guests in a five-star hotel with 24-hour room service, a spa (a pampering spa, not medical spa), casino and fine dining in its Grandrestaurant.
The included breakfast is no small matter, either. Our buffets were abundant — and the breakfast eateries are really atriums with ceilings worth a second look.
Source: Read Full Article