United Airlines has released the first photo, as well as details, of its new domestic first-class seat. The airline expects to install the seat on more than 200 aircraft by late 2026.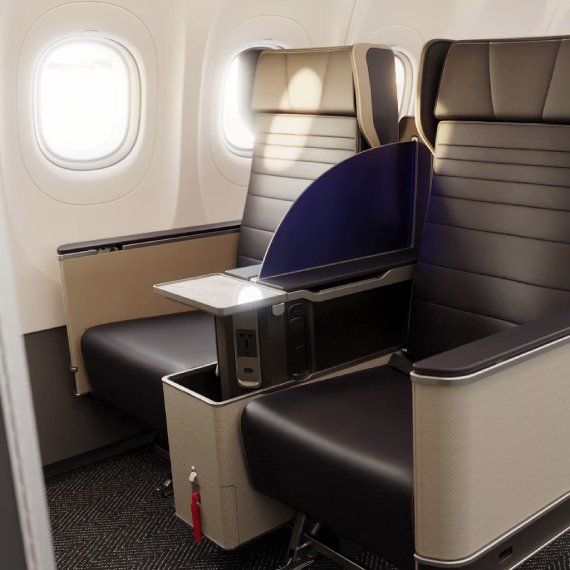 The seats will debut this month on a Boeing 737. Ultimately, 737 NGs, 737 Maxes and Airbus A321neos will be equipped with the product. This is the first update to the United First seat design since 2015. 
"This new United First seat is designed around the modern traveler — more charging options, bigger spaces for devices, food, drinks and personal items and extra privacy," said Mark Muren, United's managing director of identity, product and loyalty. "As we evolve the onboard experience, we're upending old industry norms and anticipating future needs to accommodate the new ways people live and travel." 
The airline has yet to reveal some key details about the new United First cabin design, including the width of each seat and the space between seat rows. But it has put forward several other details. 
The seats will be fabricated out of synthetic leather and will offer two new features: an 11-by-19-inch dividing shield between neighbors and a wireless charging station on every armrest. 
The seats will have 18-by-8.5-inch tray tables, which United says will be larger than before. In addition, a tray between seats will offer space for beverages when flyers are using their primary tray table for gadgets or other items. 
Seatback entertainment screens in the new United First configuration will be 13 inches, the same as some existing United First seats, according to the website Aerolopa, but bigger than United's most common first-class screens, which are 12 inches. 
Related: United Club opens in Newark's Terminal A
The seats will recline the same five inches but they will be situated one inch lower. They'll also offer headrests with wings to support the head when leaning right or left.
In addition to the aircraft that will get the full new United First product, the carrier said it will update existing domestic first-class seats on more than 200 selected 737s, Airbus A319s and Airbus A320s by 2025. Those seats will be redesigned with new seat cushions, synthetic leather upholstery and winged headrests.
Source: Read Full Article