Even with worries about the delta variant, travel is back on many people's agenda. In fact, a McKinsey survey found that after eating out, getting back on the road — or in the air — is what people are looking forward to most.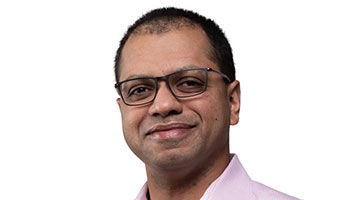 Vik Krishnan is a partner with McKinsey & Co. and serves clients in the travel, aviation and aerospace sectors. He has over 20 years of consulting experience across multiple functional areas in travel and transportation.
Of course, travel trends vary sharply, depending on local conditions and regulations. There is very little international travel into and out of Australia, for example, and it could be a long time before that changes substantially. The same could be true for parts of Africa, Latin America and Southeast Asia. Other markets, such as the U.S., are largely open but with changing regulations and travel dynamics. Overall, domestic travel levels are still about 25% down from 2019 but are more than twice as high as over the same period in 2020, with a peak of 2.24 million on Aug. 1. And on Aug. 29, the number of air travelers actually exceeded that of the same day in 2019, the first time that has happened since the onset of Covid-19. In China, four of 10 respondents to a survey say they want their next trip to be international, the highest figure ever. In short, travel is already going up — and once there is greater confidence that the pandemic is contained, there could well be a surge.
According to McKinsey research, global leisure passenger numbers could be back to prepandemic levels by 2024. Business travel is murkier; we estimate it will only get back to 80% of prepandemic levels by 2024 and indeed may never get back to its peak, as teleconferencing and webinars replace some in-person interactions and companies take a harder look at the financial and environmental costs of corporate travel. Considering the critical role that business travel has long played in airline profits, just getting more people into airports is not going to be enough to build or sustain a real recovery.
In this context, planning for the future is like flying through fog. It can be done safely, but it requires skill and judgment. By focusing on three key areas, airlines can meet their customers' needs — and create value.
Build capacity. From airlines and car rentals to hotels and airport restaurants, the entire travel supply chain in the U.S. and other relatively open markets, is showing signs of strain. Wait times at security checkpoints are long, and many concessions are still closed. Air rage simmers. Popular vacation destinations face rental car shortages. In short, right now the travel experience remains a mixed bag.
With global aviation capacity levels still well below 2019, the place to start is with a plan. Waiting until demand returns is too late. Instead, develop strategies to build capacity, for both planes and staff, based on different scenarios. In general, it is probably better to bring back capacity before it is needed. Doing so might be costly, but the impact of lost demand and loyalty could be much higher.
Invest in data and digital innovation. Everyone recognizes that the travel experience has changed forever, but these changes do not have to be painful. By improving digital capabilities in particular, airlines can offer passengers the assistance they want and need and also put themselves in position to adapt if and when things like digital passports or vaccine certificates become available. Investing in digital analytics can allow companies to identify opportunities to differentiate their services — and to identify small problems before they become big ones.  Airline leaders should be asking where analytics can add value, what they need from their data platform and how working will need to change, and then make the required investment.
Yes, this costs money, which many airlines are short of. But it's worth noting that the industry spends only about 5% of revenue on information technology, less than many other sectors, such as retail (6%) or financial services (10%). Instead of grafting smaller changes onto existing processes, be open to adopting new systems that can maximize flexibility; for example, to add new routes quickly.
Another promising area of investment is in data.  It is important for airlines to be able to identify when travel is picking up, particularly high-profit business travel, so that they are ready to anticipate demand and optimize pricing. Earlier this year, one airline missed the signs and was unprepared for the sudden spike in demand over a  holiday weekend — an expensive mistake. Organizations can meet regularly to discuss data-driven insights and figure out how to react.
Create new commercial approaches. Sad but true: When people complain of a bad travel experience, airlines get more than their fair share of the blame. It's difficult enough to run an airline, but reimagining the business model could mean looking at the whole consumer journey, not just the booking-to-baggage portion of it. One idea is to seek ways to collaborate with other elements in the travel ecosystem, such as hotels, transport companies and airport concessions to create a positive end-to-end customer experience. Examples could include rideshare partnerships built into the airline app that recognize if a traveler's flight is arriving earlier or later, or hotel baggage transfer facilities so that families don't have to wait at luggage claim.
While safety has always been the top priority for both the industry and for passengers, that has taken on a new dimension. Something as simple as improving the functionality of apps to give people more control over their in-flight experience can build confidence. With business travel lagging, airlines need to figure out how to compensate for that lost revenue; for example, with premium leisure seats. Lower levels of business traffic may also require rethinking networks, with larger aircraft flying less frequently instead of smaller planes serving hubs, a trend that was taking off before the pandemic.
Airlines are not going back to business as usual, circa 2019.  Meeting current demand well and being ready for future surges will not be easy. But it is also an opportunity for industry players to redefine their value propositions and make their offerings distinctive. That will serve both their customers and their balance sheets.
Source: Read Full Article